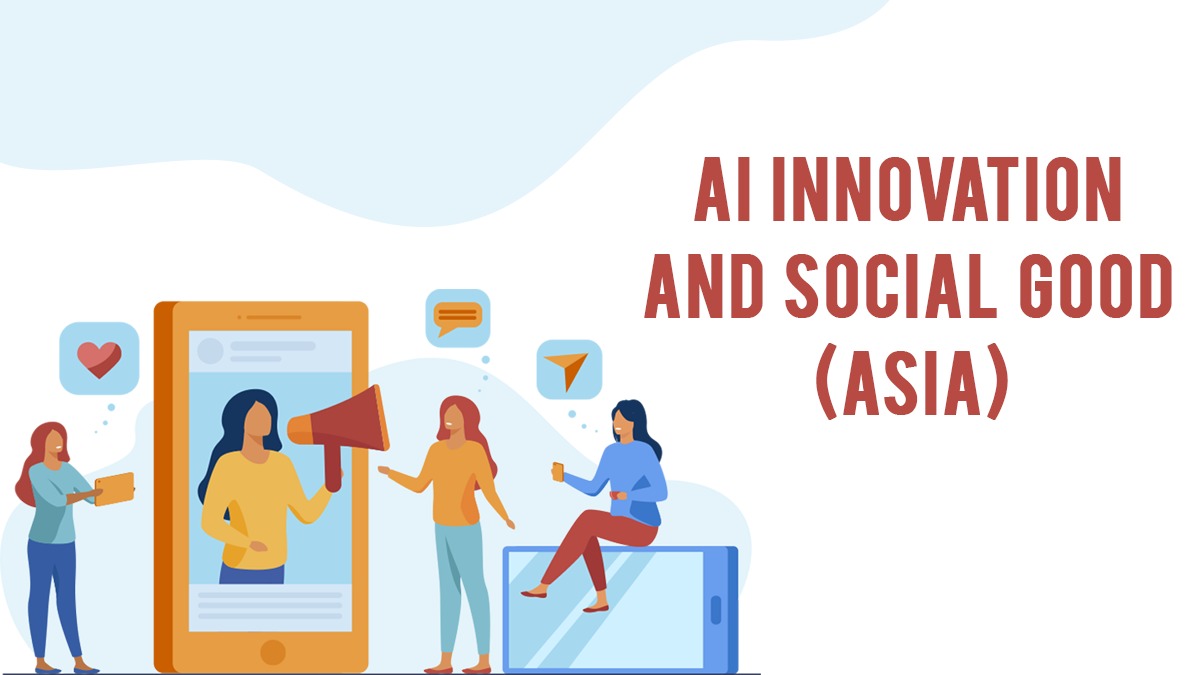 Artificial Intelligence (AI) and its profound sphere of influence cannot be gauged easily. It is a form of technology that has the potential to transcend boundaries and make a fundamental difference in people's lives. AI has the profound power to bring transformational change to people's lives. It is this aspect of AI that makes it unique. AI could have a direct social impact and the Asian economies have closely understood this fundamental fact. AI has therefore become a part of the governance policies of different governments. According to a study conducted by Ernst & Young, workers will have significantly different skill sets in 2022 with 46% of the people taking up completely new jobs. The impact of AI can be gauged from this fact. AI, therefore, has the exponential potential to transform the social infrastructure. Through this article, the social impact will be gauged and assessed within Asian countries like India, China, Japan and Singapore. AI is therefore now being progressively seen as a key tool to promote the public good in societies and companies like Google are initiating this change with initiatives like AI for social good. (Condon, 2018) The AI story must begin with China – the Asian economic giant that has steered the AI growth story in Asia.
CHINA 
It is crucial to understand at this stage that the world is further away from developing General AI where AI can emulate human intelligence and transform human lives. However, the true potential of AI cannot be underestimated and Asian economies like China have already understood this fact. China has sporadically invested in AI and built its own AI infrastructure with great resilience. China has adopted a manifold approach in the development of AI with the market estimates stating that the AI intelligence could surpass 1 trillion yuan ($147.80 billion) and become an AI hub by 2030. (PRC State Council, 2018) The innovative July 2017 plan titled July 2017 plan, A Next Generation Artificial Intelligence Development Plan lays out China's all-pervasive AI strategy for the future with its comprehensive focus on Research & Development (R&D) industrialization, talent development, education and skill acquisition, standard-setting and ethical norms and regulations as well as security. The Chinese government wants the benefits of AI to reach everyone within the country and is building an AI technology park with the help of tech giants in Beijing. (Dutton, 2018) Kai-fu Lee, the former head of Google China has explicitly mentioned in his book that China is spearheading the AI revolution due to the presence of tenacious entrepreneurs in the country who have continuously received the support of the government in recent years and facilitated the exponential growth in AI in the country. The slogan "Mass Innovation and Mass Entrepreneurship" given by Chinese leader Li Keqiang has captured the imagination of the average Chinese people and the mayors of different provinces and pushed them out of their comfort zone. The Chinese have successfully created an alternate universe of their own as a result of the successful collaboration between Chinese tenacious entrepreneurs and the government. (Lee, 2018, 55)
The future of automation is playing out in China with cutting edge research on AI technology taking place all across the country. A good example is 'Alibaba's 'Cloud Town' in Southern China where the company is working tirelessly to build AI pedestrian crossing lights that use facial recognition for identifying the age of the road crosser giving them a longer green light if they are old/slow enough, to AI drone cars that can respond to passenger needs. (Guardian, 2018) China has taken the lead in AI innovation by introducing AI-related courses in Tshinghua and Peking Universities. It is believed that the gap between urban and rural healthcare will be reduced substantially with the use of AI in the coming future with the coming of AI technologies. China has focused on developing partnerships between the healthcare sector and the technology-driven industries to bring this change though according to Mr. Jim Wang, CEO of health care conglomerate NovaVision Group, the Chinese medical industry continues to be highly traditional in its outlook. (CNBC, 2018) China and its thrust on AI and innovation can also be summarily gauged from its attempts to recruit children to develop AI 'killer bots'. (South China Morning Post, 2018) It is difficult to assess the extent to which AI has transcended Chinese frontiers within a couple of lines but it is clear that the AI revolution is here to stay in China. Kai-fu Lee has ascertained this fact and said with a great amount of convention that AI will emerge as the new General Purpose Technology in this century. (Lee, 2018, 151)
INDIA 
The Niti Aayog in India has come with the slogan #AIForAll and embraced AI with an open arm. The NITI Aayog has argued in favour of AI and said that 'India could leverage the transformative technologies to ensure social and inclusive growth in line with the developmental philosophy of the government. India's approach to AI talks about optimization of social goods rather than maximization of toppling growth.' (National Strategy for Artificial Intelligence: 2018, 5) The full potential of AI can be assessed in India by taking into consideration the aspirations and needs of the countrymen. The strategy in India for the development of AI looks at leveraging AI for economic growth, social development and inclusive growth, and finally looks at the creation of a "Garage" for emerging economies. The use of AI in the social sector in India manifests itself in the realm of healthcare, agriculture, education, smart cities and infrastructure and Smart mobility and Transportation. (Dutton, 2018)
As far as the development of AI is concerned, India is a late bloomer as compared to other countries like China and Singapore in Asia. However, the Indian leaders have tried to go on the path of course correction and sought a reasonable amount of assistance from Singapore to develop AI intelligence in 5G, electronic manufacturing, infrastructure and prevailing social issues like health and education. (The Economic Times, 2018) Recently, the Wadhwani Institute for Artificial Intelligence (WIAI) has been set up to promote Research & Development (R&D) within the AI spectrum in India. However, India's involvement with AI is still in its nascent stage with only less than 50 researchers in India working on AI. However, there is a burgeoning talent within India and efforts are being made constantly to enhance the existing AI talent pool. (Business Today, 2018) It is interesting to note in this regard that India ranks among the top three countries with AI skills with the number of LinkedIn members including AI as a potential skill increasing exponentially by 150% between 2015 and 2017 in India. (D'Monte, 2018)
JAPAN
Japan has always led from the front when it comes to the question of technology and innovation. Dr Kazuo Yano has recently discussed the exponential possibilities of AI and argues that conventional workers do not need to principally worry about automation and AI. He focuses on his assessment of happiness and work productivity and makes this point with great clarity. He insists that creative collaboration between AI and human intelligence is the way forward. (Pickup, 2018) Japan and AI technology- it is in the next league and this can be understood from the fact that Japan is using robot waiters remotely controlled from home by people with severe physical disabilities at a cafe in Tokyo's Minato Ward. The robots are enabling physical work and participation. (Japan Today, 2018) However, Japan appears to be a curious story in this situation, because ordinary Japanese fear that advancement in AI will lead to burgeoning inequality and job losses in the country leading to a shake-up of the economy. The government, however, continues to have a contrarian view and is optimistic about the use of AI with the Japanese government pushing its "Society 5.0" vision, with technologies like AI making it possible to alleviate hard manual work and drive the adoption of "smart" construction and manufacturing. (Russell, 2018)
SINGAPORE 
Any discussion and deliberation on AI in Asia is woefully incomplete without a mention of Singapore since it has emerged as the leading hub of technology and innovation in South East Asia. AI Singapore is the AI vision document for the country. It essentially aspires to put Singapore on the digital map and create social and economic impact to qualitatively and quantitatively change how Singapore thinks and perceives itself. Research, Innovation and Technology are the three fundamental pivots of AI in Singapore and this country aspires to create a tech ecosystem that merges the interests of the industry and the citizens. (AI Singapore, 2017) Though it lags behind Indonesia in the adoption of the technology, Singapore has decided to engage with AI to consistently overcome the challenges the country is facing currently like the fiscal and economic crisis, falling capital investment and soft workforce growth and decelerated productivity. (Lago & Trueman, 2018) Therefore, there is considerable focus on using AI for social good in the country. Singapore has pioneered research and innovation in AI. A good example is the introduction of self-driving taxis being introduced in cities and a mini town that has been constructed in the country. (Snow, 2018) 
AI has thus transformed the way we think, perceive and react as human beings. It has become an integral part of our lives unknowingly. Through this brief introduction to AI in South East Asia, we are able to get a glimpse into the level of impact that AI can have in the future. AI is already playing a significant role in making society more inclusive. AI has thus become a part of the governance policies of different governments and Asian countries like China, India and the South East Asian tiger economies like Singapore have embraced AI technology to a lesser or greater degree and are now part of the cyber age. AI has transcended borders and boundaries and opened the doors of our imagination both qualitatively and quantitatively. It is therefore up to us to become a part of this phenomenal change and understand its magnitude as fast as we can.
This piece is written by Anuttama Banerji. Anuttama is Associate Researcher at Govern.